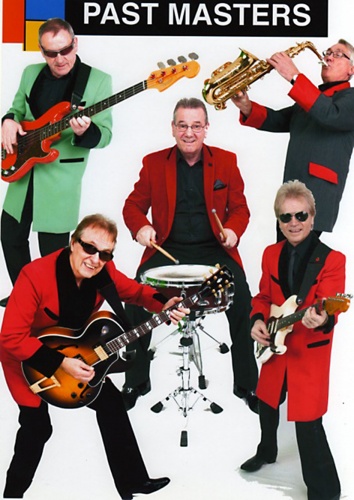 All Live Band
"Past Master" specialise in the music of the late fifties through the sixties and seventies, with a line-up of guitars, bass, drums and saxophone giving a good variety of material to choose from.
They feature a lot of the great music of the period including Buddy Holly, Eddie Cochran, Elvis, Carl Perkins, Danny & The Juniors, Dion & The Belmont's, The Beatles, Manfred Mann, The Hollies, Rolling Stones right through to Brian Ferry, Gerry Rafferty, Dire Straits and even Tina Turner but to name a few.
"Past Master" can also do tribute shows to Cliff Richard and The Shadows, Buddy Holly and Elvis Presley or a complete OH BOY type of show including the great hits of The Everly Brothers, Eddie Cochran, Johnny Cash, Billy Fury, Carl Perkins etc. The list is endless, as "Past Masters" are big fans of their music, and pride themselves on the slick presentation associated with such great acts. Half the band picked up their first instruments as teenagers because of The Shadows, and the influence of their music is apparent here. For most of these type of shows "Past Master" add extra members to the band .
They also cater for the sixties fans with numerous hits from artistes such as The Beatles , The Rolling Stones, Manfred Mann, Gerry & The Pacemakers, The Searchers etc.

Their show is full of nostalgia , and if you are not tempted to dance when "Past Master" strike up, then you're probably too young ! Make no mistake, this is live music at its best.
Top