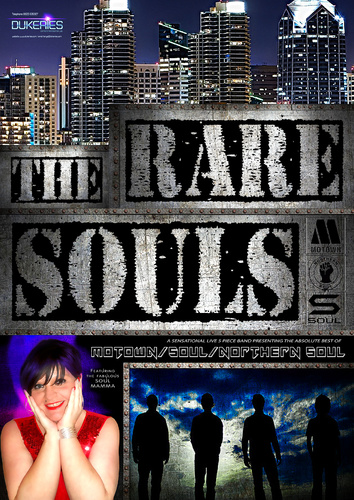 Live Motown/soul/northern Soul Band
The Rare Souls are one of the very few completely live Soul, Motown & Northern bands in the Midlands who recreate the amazing sounds and atmosphere of 60s-70s Soul and Motown classics such as Diana Ross & The Supremes, Martha Reeves, The Four Tops, The Temptations, R Dean Taylor, The Tymes, Tammi Terrell, Billy Ocean and many more.
The band consists of drums, guitarist, bassist, keyboards, lead vocals from the fabulous Soul Mamma and a sound and lighting engineer. The line-up consists of extremely experienced musicians who individually have been involved with Pure Abba, Tony Blairs 10th Parliamentary Anniversary party & Star Cabaret Acts, including The Vernon's Girls & Craig Douglas, The Dallas Boys; Joe Pasquale, Bernie Clifton, Jimmy Tarbuck, Dame Hilda Bracket, Shirley Basset, Diana Ross & The Supremes Tour, Dallas Boys & The Drifters, to name but a few.
The bands PA consists of a 3.5k full range digital RCF active system and full stage lighting.
If you're looking for a Soul and Motown band for your venue/party The Rare Souls will certainly not disappoint.
Top