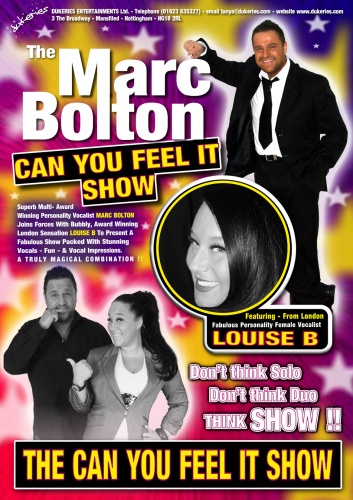 Personality Vocal Fun Duo
CONGRATULATIONS TO MARC & LOUISE ON BEING SUCH A HUGE SUCCESS ON THE RECENT "SAM BAILEY" UK TOUR.
Marc Bolton is a top, multi-award winning personality vocal instrumentalist. His supreme vocal ability and uncanny vocal impressions of some of the world's biggest stars (including Elton John, Tina Turner, Tom Jones, Barry White, Franki Valli, Peter Andre and the Bee Gees) has mesmerised audiences across the U.K for more than 20 years earning him many industry accolades.
More success followed when Marc formed the hugely popular Vocal Comedy Duo "The New Chevrons" in early 2003 which ultimately went on to become one of the most award winning Duo's of the next ten years.
"Can You Feel It" is Marc's latest venture alongside top personality vocalist "Louise B". Their combined vocal/personality talents, together with their vast experience of performing in all venue types and variety of audience is ensuring the continued, formidable reputation of this astonishingly talented entertainer.
Louise B started her show business career in 1998 when she secured a position as a "Bluecoat" with popular holiday chain "Pontins". After 2 successful years with the company Louise moved to "Haven" holidays where she perused her ambition of becoming a professional vocal entertainer. Whilst working for "Haven" she met fellow entertainer P.J Harvey and together they collaborated on a new act "Equation Duo" with which they toured major holiday venues and nightclubs until both were offered joint, entertainments managership at Richardson's holiday group. Now, together with Marc Bolton, as part of the duo "Can You Feel It" Louise is gaining a legion of northern fans with her bubbly, friendly personality, outstanding vocal ability and her natural skill of making any audience feel relax and fully entertained. A lovely lady and a real talent.
Top