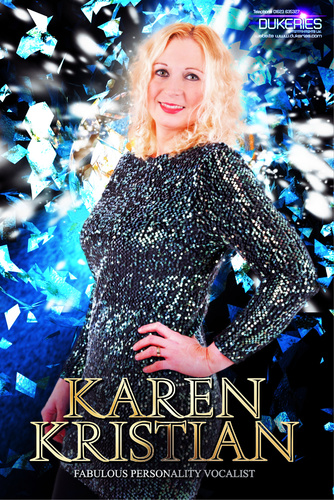 Personality Female Vocalist
Karen Kristian is a very experienced and accomplished female vocalist in all venue types.
Starting her professional singing career at age 18 Karen "cut her teeth" in shows at coastal holiday venues in the U.K. either as part of a group or as a solo performer.
Karen has a relaxed, light hearted stage presence and performs a range of material able to entertain the very young to the more mature audiences, including swing, ballads, rock 'n roll, pop and country. Karen also performs a full tribute to the Country & Western genre under the name of "Karen Hart".
Usually working self-contained with a top class P.A. system, Karen is also at ease performing with "Live" musicians having her own music charts.
This multi-talented entertainer also performs as a children's entertainer under the name of "Kaz and Kids" proving a popular favourite at Kiddies functions and holiday centres through-out the Country. Not forgetting Senior Citizens parties covering war time songs as well as old favourites.
Karen always goes that extra mile where only the best will suffice.
A TRUE "ALL ROUNDER" AND LOVELY LADY.
Top