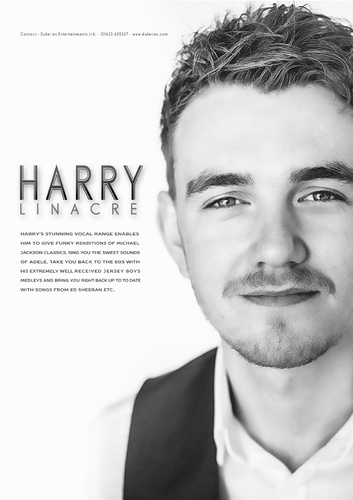 Personality Vocal Entertainer
Harry Linacre is a 22-year-old singer/songwriter with an outstanding vocal talent. Performing popular music from male and female vocalists, Harry has the ability to make a song from any era his own in order to suit any occasion. Harry's stunning vocal range enables him to give funky renditions of Michael Jackson classics, sing you the sweet sounds of Adele, take you back to the 60s with his extremely well received Jersey Boys medleys and bring you right back up to date with songs from Ed Sheeran.
Born into the musical "Linacre" family, Harry has been performing for a wide range of audiences since a very young age. In recognition of his talent, BBC Talent scouted Harry at 9 years old to be a part of their film "The Little Prince" aired on BBC2 in 2004. From then on, Harry was invited to audition all over London for main roles in various West End stage productions including Oliver Twist and Mary Poppins. This led to Harry performing in front of the likes of Andrew Lloyd Webber, Cameron Mackintosh, Graham Norton and many more
Harry moved to London at 16 after being accepted at the prestigious performing arts college 'The BRIT School' to study music. Graduating in 2013, Harry has been able to gather a wealth of experience within the industry, learning from teachers who had taught Adele, Amy Winehouse, Leona Lewis- to name a few. He was chosen for many exclusive events including performing Take That's hit single "Back For Good" especially for the writer and performer of the song, Gary Barlow. Harry also performed at the famous venue "The Roundhouse" in London at the City and Guilds Awards with Myleene Klass.
In 2015, Harry was scouted amongst others by Disney to record their Christmas song. He saw off the competition and his rendition of their song "Home For Christmas" was played on the Disney Junior channel throughout the festive period along with the YouTube video gaining over 26 million views.
Performing throughout the UK as the lead singer of corporate function band "Where's DAN" from 2014-2017, Harry has perfected his stage presence and charisma ensuring his audiences are captivated by not only his voice, but also his personality. A show for all ages and venues.
Top