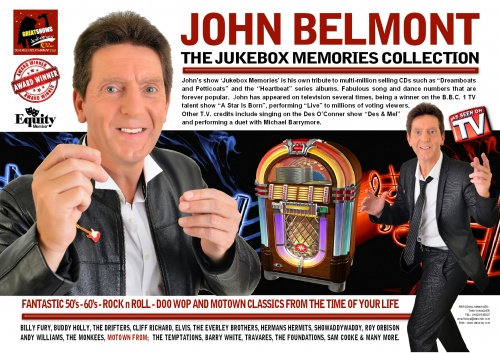 Award Winning Vocalist
Johns show 'Jukebox Memories' is his own tribute to multi-million selling C.D.s such as "Dreamboats and Petticoats" and the ''Heartbeat" series albums. Fabulous song and dance numbers that are forever popular.
Hits from the likes of ; Billy Fury, Buddy Holly, The Drifters, Cliff Richard, Elvis, The Everly Brothers, Herman's Hermits, Showaddywaddy, Roy Orbison, Andy Williams, The Monkeys, Neil Diamond, plus many more.... With Motown from; The Temptations, Barry White, Traverse, The Foundations, and Sam Cooke.
John has appeared on television several times, being a winner on the B.B.C. 1 TV talent show "A Star Is Born", performing LIVE ! 3 times to millions of voting viewers. And so Proud to be on one of those shows with '''Status Quo''', WOW !! Living the dream...
Other T.V. credits include; singing on the Des O'Conner show "Des & Mel", And Performing a duet with Michael Barrymore on his Program.
John has Been Regularly Broadcast on B.B.C. Radio Nottingham and B.B.C. Radio Midlands too.
Having had 'classical vocal training' for 3 years John was a member of 'The Nottingham Operatic Society' and performed on stage in Nottingham in "Songs From The Broadway Shows".
He's an Easy-Going Professional, Proud to have been an 'Equity' member for 25 Years.
Top