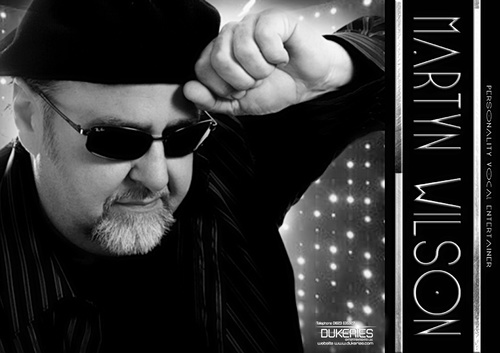 Personality Vocal Entertainer
Martyn learned his trade in the '70's working the Northern Club and popular Cabaret venues at the time, being fortunate to work with a host of top stars of the time, namely Bob Monkhouse, Russ Abbot, Little and Large and Bernard Manning to name a few, ultimately featuring on BBC Radio 2 with the Northern Dance Orchestra.
He's also featured in leading roles in musical theatre, Oliver, Sweeney Todd, Grease, and My Fair Lady.
More recently, he worked in the legendary Shadows founding member, Jet Harris's band. This probably was the most exciting job of his career, being a great Shadows fan. In fact, he features a 20 minute Shadows tribute set, featuring all the great Shadows tunes, with authentic ' Hank' sounds on the guitar.
For the past 6 years, he has extensively worked the East Coast, Hotel and club circuit, where his audiences vary from 18 – 80 years This has developed his repertoire to include something for everyone, whether it be Nessun Dorma, or Whitesnake, and all the popular party hits you would expect to make an evening complete.
As well as his vocal talent, Martyn can perform a 20 minute 'stand up' routine, a few vocal impressions thrown in and his very popular vocal instrumental set.
Until last year, he was a radio presenter on County Linx Radio, where he had his own 2 hour Sunday Night Spectacular Show.
Martyn is a genuine all round performer and song stylist, who reads and connects easily with his audience in any venue. Let Martyn take you on a musical journey through the last 7 decades of great classic songs of that period.
Top