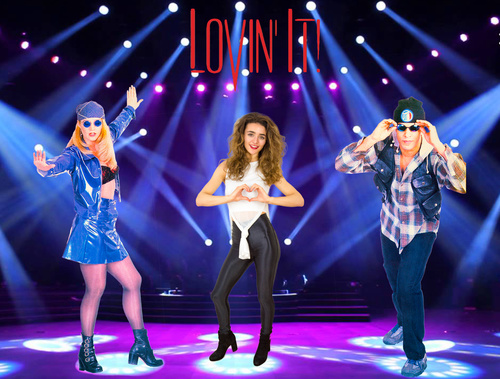 Fabulous Top 3 Piece
Lovin It (trio) consists of Ali, John and Alex, three outstanding vocal performers. They are at the pinnacle of their profession and, unlike so many acts today, they don't have day jobs during the week hence more time and effort is put into perfecting the performances that they rely upon for their living and it certainly shows. Every aspect of this act is fine tuned to perfection, nothing is overlooked which is why clients are assured of the very best when booking this outstanding trio.
Ali's successful singing career includes numerous TV appearances, Top 30 UK chart success and live performances in stadiums all over the world while promoting her records. She has spent lengthy periods working in South Africa, Germany, Japan and Ireland which has given her invaluable experience and helped her to develop into the stunning vocalist that she is today.
John not only is a fantastic entertainer but he has also produced various stars in his commercial recording studio including the likes of Kid Creole and the Coconuts, Shaun Rider from the Happy Mondays and Swing Out Sister. John brings his production skills to Lovin It's shows creating a sound quality that sets the bar for others.
Joining them is the incredibly talented Alex who brings both glamour and youth to the line-up. But there is so much more to Alex than just her good looks. Her gorgeous silky smooth voice brings even more quality to the act and blends impeccably to create a lush combined vocal sound. She is a prodigy of Nigel Martin Smith, ex manager of Take That, and has twice made it to the six-chair challenge in X-Factor in the band Girls Next Door.
Lovin It's stunning show consists mainly of No 1 hit records from the past four decades featuring songs from the likes of Justine Timberlake, Clean Bandit, Cee Lo Green, Jessy J, The Killers, Kings of Leon, Girls Aloud, Walk the Moon, Adelle, Black Eyed Peas, Diana Ross, K C and the Sunshine Band, Chakka Khan, Earth Wind and Fire, Kool and the Gang and many, many more.
They are a sure-fire bet get the party started in any type of venue. The quality of their vocal performances, their backing tracks, their PA and their on-stage performances is second to none. It guarantees that their audiences, young and old, enjoy an unforgettable night to savour.
Top