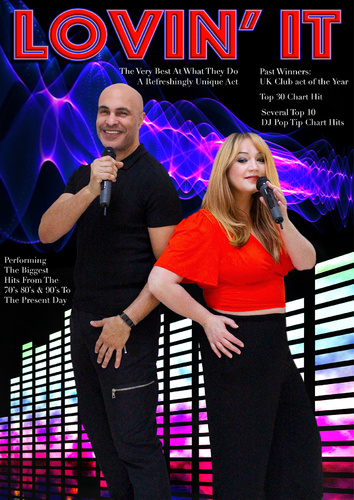 Personality Vocal 2 Piece
Lovin It comprises of two fantastic vocal entertainers, Ali and John. Both have enjoyed minor success in the record industry during the 90's with various dance hits and have enjoyed a highly successful career of late as a duo in the entertainment industry.
John not only is a fantastic entertainer but he has also produced various stars in his commercial recording studio including the likes of Kid Creole and the Coconuts, Shaun Rider of the Happy Mondays and Swing Out Sister. John brings his production skills to Lovin It's shows creating a sound quality that sets the bar for others.
Ali's successful singing career includes numerous TV appearances, Top 30 UK chart success and live performances in stadiums all over the world while promoting her records. She has spent lengthy periods working in South Africa, Germany, Japan and Ireland which has given her invaluable experience and helped her to develop into the stunning vocalist that she is today.
Ali and John have also worked together on commercial projects, again taking their performances around the globe and they have also had singles appear on several compilation albums.
Lovin It's extensive repertoire and vast experience means they can adapt to suit any audience be they young or old or whether they have a preference for modern or more traditional music. Songs from the likes of Megan Trainor, Sam Smith, Ed Sheeran, Robin Thicke, Jess Glynn, Wham, Rick Astley, Journey, Maroon 5, Fleur, Bruno Mars, Rhianna and many more acts from yesteryear.
A constant throughout are the flawless vocals, energetic performances and impeccable sound quality. Lovin It provide a superb show of the highest quality leaving audiences thoroughly entertained and screaming for more.
Top