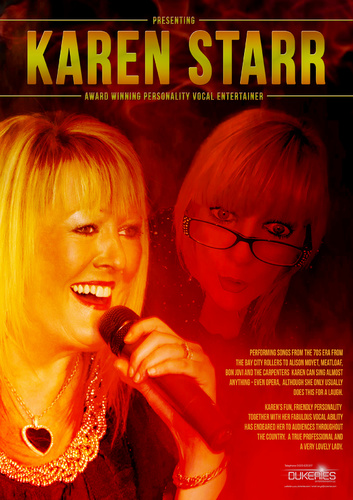 Personality Vocal Entertainer
Karen's singing career started at the tender age of 3 !!! Although, always shy, she didn't pursue her dream until she was aged 16 when she attended her first audition.
At 20 she entered a talent competition at The Garden City Club in Skegness which she won, and after which she was offered prestigious studio recording work. Talent scouts encouraged her to continue further with her recording sessions but Karen (always wary as to how fickle the entertainment business can be) also wanted the security of normal work. She has continued to balance her singing career & work commitments as a teaching assistant for the past 34 years and has been pleased to work with many T.V. Stars & Entertainers.
Performing songs from the 70s era from The Bay City Rollers to Alison Moyet , Meatloaf, Bon Jovi and The Carpenters, Karen can sing almost anything, even opera although she only does this for a laugh.
Karen's fun, friendly personality endears her to audiences throughout the U.K. A professional and a lovely lady.
Top