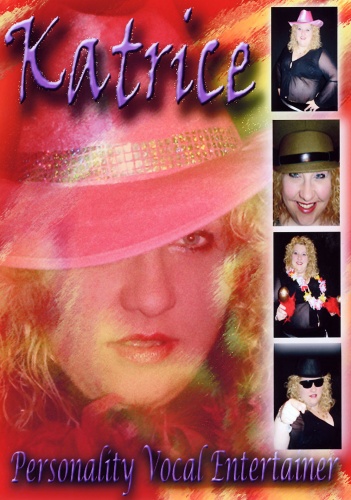 Personality Vocal Entertainer
Katrice has been a musician since the age of 9, qualifying to grade 8 on Clarinet and Saxophone.
In the early days, Katrice started a duo (with her singing teacher) called 'Tinker' and only 7 weeks into their partnership they appeared on T.V.'s "Des O Connor's Pot of Gold".
Katrice was in "Tinker" for 4 years where they built up a large following on the local circuit and were known for their larger than life personalities and comedy performances as well as their excellent vocal ability. They were runners up in Greenall's Entertainer of the Year twice and completed three tours of German army bases.
Katrice has now been performing her solo show since 2002 and has built a reputation as one of the most hard working, energetic, enthusiastic acts on the circuit.
She has had successful summer seasons in Cornwall, has toured regularly in the North East, Wales (where she
appeared with Mike Pender's "Searchers") and Scotland and has appeared regularly on Radio Nottingham.
Katrice also enjoys performing with live musicians and prides herself on being able work either self-contained OR with live musicians.
Her philosophy in life is to live for the moment , 'you can only live once, enjoy life whilst you can'.
During her show you can expect to have fun, become part of the show, maybe find her sat on your knee and be encouraged to join in. Always a great night of Entertainment
Covering music from the 40's to present day, Katrice endeavours to include a full mixture of music ensuring there is always something for everyone.
Once described by a local entertainment agent as having a personality "little short of breath-taking".
Top