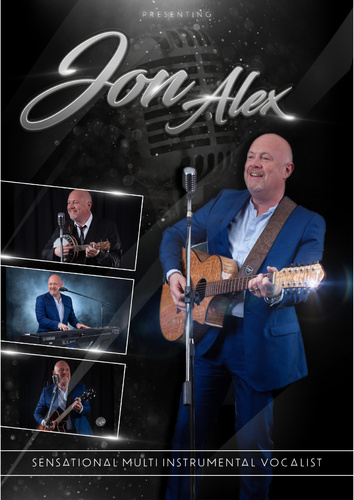 Vocal Instrumentalist
Jon Alex is well known for his professionalism and reliability and most of all his musicality. He is proud to say he is from a show business family which goes back five generations,

He himself can boast many years in the business, starting with television work at the age of 14. I don't think he can remember a day of his life that he hasn't played the piano or the guitar.

He has made use of all this experience to form and mould his act to a high standard of professionalism.
Playing the acoustic guitar, piano, ukulele, harmonica and with a fine singing voice he features an eclectic mix of classic song writing legends. Artists such as The Beatles, Dean Martin, Billy Joel, Johnny Cash, Willie Nelson, The Kinks, The Eagles, Dire Straits, Van Morrison, The Bee Gees.
Not forgetting Jon's spectacular tribute to Sir Elton Jon.
Must be seen.
Top