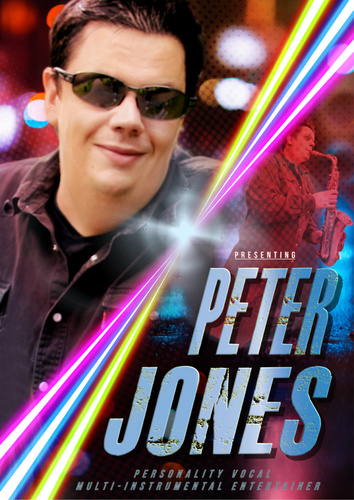 Vocal Instrumentalist
It is only occasionally that we get the opportunity to witness a true vocal and musical talent. Peter Jones is one such talent. A musical genius with a world class vocal ability Peter excels in all areas of musical performance.
Tragically losing his sight to retinoblastoma at age 15 months Peter turned to music at a very early age, quickly becoming accomplished on Keyboards, Piano, Guitar, Bass, Saxophone, Clarinet, various Recorders, Whistles, Percussion and Drum Kit. His "ear" for music and his exceptional vocal ability have acquiring him a legion of appreciative fans at "live" events and on the world wide web where many of his self-penned albums are featured (he also writes and produces his own original, material).
Peter first came to the attention of T.V. executives and record producers back in 2001 when (together with lifelong friend Emma) he succeeded in progressing to the grand finale of B.B.C. television's "Star For A Night", subsequently doing the same in 2004 on I.T.V.'s No.1 show "The X Factor". Following the "X Factor" success a U.K. Arena tour followed with his fellow "X-Factor" contestants culminating in a Nottingham Arena performance with Artistes such as "Lamar", McFly" and Natasha Bedingfield.
Pete says, "I have always felt that my ears have made up for the loss of my sight. Music has (for as long as I can remember) been an essential part of my life and I feel honoured and blessed that so many people seem to enjoy mine".
Top