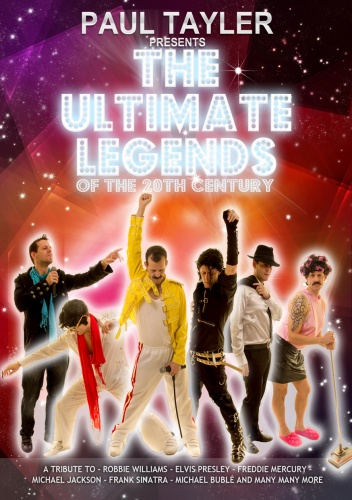 Ultimate Legends Multi Tribute Show
Paul Tayler is the Ultimate Showman and a multi award-winning vocal impersonator.
Presenting his show 'Ultimate Legends', Paul's show features tributes to: Michael Bublé, Robbie Williams, Freddie Mercury, Michael Jackson and Elvis Presley!
The Ultimate Legends Show is an entertaining, high energy, show! Paul adapts his voice and mannerisms, engaging the audience throughout the show. His Freddie Mercury features all the pomp and self-parody; Robbie Williams, the cheekiness and arrogance; Michael Bublé the smooth and sexy approach; Elvis Presley, the hip swinging energy; and Michael Jackson - the whole performance! This is entertainment and showmanship from beginning to end!

Paul's ability to mimic almost any voice he hears, as well as his dance and performance skills, have enabled him to create amazing shows! Including Tributes to RAT PACK, MICHAEL BUBLE & ROBBIE WILLIAMS!

Paul has been a full time professional vocalist for 18 years and is classically trained which ensures he maintains his 3 Octave Range.
Paul has performed live on BBC as well as national and local radio stations performing impressions of singers as well as parodies and spoofs. Impressions include: Frank, Dean, Sammy, Bobby Hatfield, Gene Pitney, Elvis, Nat King Cole, Chubby Checker, Tom Jones, Louis Armstrong, David Bowie, George Michael, Jonny Mathis, Elton John, Mick Hucknall and many more!
Paul has performed tributes to Michael Bublé, Robbie Williams and the Rat Pack touring Australia and the UK. He has won Entertainer of the Year (WA) on 3 occasions.
Top